Moving/ bubbling/ circulating/ entrained bed, dual-packed-bed reactor-Regenerator





Non-catalytic Reactor: Our added strength is also in the design of non-catalytic (and mixed - catalytic and non-catalytic) reactors, wherein solids take part in both chemical and physical transformations. Areas covered include Combustor/ Incinerator/ Gasifier/ Pyrolyzer of biomass/sludge/coal/solid fuels, minerals Roaster/Calciner , and Desulfurizer and Hg removal .
Regenerative Gas-Solid Reactor: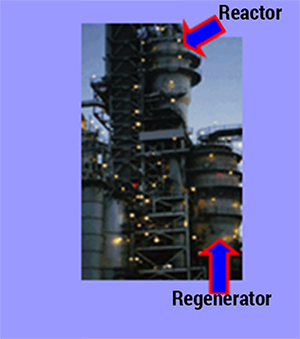 Our design capability includes the so-called 'duel-bed' or regenerative gas-solid reactors, such as an absorber-desorber for removal of contaminants such as S (in the form of SO2, H2S, Thiophene or others) and Hg, and catalytic reactor-Regenerator system such as FCC. In these duel-bed units (non-catalytic or mixed catalytic + non-catalytic bed) one bed operates under the contaminant absorption and/or reaction mode while the other bed undergoes regeneration. These can be fixed bed (operating in batch mode), or fluidized/ moving bed (operating in continuous mode) reactors. The design tool we use can generate authentic ' break-through ' curves that may be critical for proper design and operation of both sides (reactor and Regenerator) of this reactor system particularly for the fixed bed configuration.